Apply for an ACBL Charity Foundation Grant
Since 1964, the ACBL Charity Foundation has made substantial contributions to a wide range of charitable organizations.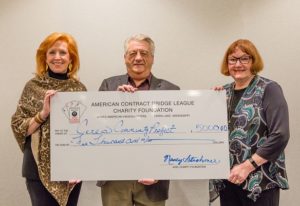 In an effort to respond to the needs of charity in our local areas, in 2005 the ACBL Charity Foundation began issuing grants to districts rather than granting one $100,000 contribution to a national Charity of the Year. The ACBL Charity Foundation is a 501(c)3 organization, and contributions are fully tax deductible.
Authorized District Grants
Each district will be allowed to allocate $30,000. This sum can be divided into no more than five separate grants, each of which must be made to a qualified 501(c)3 organization.

The check will be written after the appropriate documentation of the 501(c)3 status has been provided, and the checks will be distributed directly to the recipients. Requests for checks will be made by the district director. The relevant district boards or their designee shall allocate the district grants.
Requests for grant allocations must be made by November 15 of each year or the unused portion will be forfeited and the funds returned to the general fund of the ACBL Charity Foundation. Distribution of funds may be delayed due to availability of liquid assets, and the districts shall be promptly notified of any such delays.
The Canadian Bridge Federation (CBF) Charitable Fund decides grant recipients from charity money raised in Canada. Districts 1 and 2 are both Canadian districts, and parts of districts 18 and 19 are in Canada.
Each Charity Foundation trustee may designate $3000 per year to a qualified 501(c)(3) organization. Each member of the ACBL Board of Directors who is not also a Charity Foundation trustee is may designate $1000 per year to a qualified 501(c)(3) organization regardless of the District(s) he or she represent.
The ACBL Charity Foundation also sets aside $5000 to be contributed to a qualified charity at each NABC. The local tournament committee decides the recipient.
How to Apply for Non-District Grants