Grants for Disaster Relief and Recovery
The ACBL Charity Foundation has a rich history of funding ACBL communities impacted by natural disasters such as hurricanes Irma, Harvey and Maria in 2017, the California wildfires in 2017 and 2019 and the earthquake in Mexico in 2017.
In 2023, the Foundation established a catastrophic relief fund and guidelines to ensure a swift response to funding when communities need it most.
2023 Recipients
The Hawai'i Community Foundation: Maui Strong Fund, supporting the recovery needs of those affected by the Maui wildfires, received $10,000 in relief funding.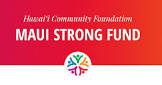 Grant submissions from organizations and grant funding requests from members on behalf of organizations will no longer be accepted.
For further information, or to make a tax deductible private donation to the Foundation, please contact Jackie Zayac, jackiezayac@gmail.com.