A Helping Hand: Charity Foundation Grants are a Game-Changer
By Amy Casanova
The ACBL has a long tradition of charitable giving, dating back to its inception in 1937. Since 1964, the ACBL Charity Foundation has managed funds and donations. In 2005, in an effort to respond locally, the Foundation began to distribute grants to each district in a four-year cycle, with the exception of Districts 1 and 2, where charity funds are collected by the Canadian Bridge Federation. Districts 18 and 19 share one grant because their membership is split between Canada and the United States.
Every year, five districts allocate $30,000 each to as few as one or up to seven 50l(c)(3) organizations. Each district's director, local board or charity coordinator determine the recipient(s), which must be a qualified charity.
The grants distributed last year by the ACBL Charity Foundation were perhaps more mean- ingful considering the difficult circumstances caused by COVID-19. The five districts receiving the funds spanned the country, from Los Angeles to Florida, up to parts of the East Coast and over to Chicago and Wisconsin.
Grants aimed at helping those in need within the local community were the majority beneficiaries in 2020. District 5, which covers parts of Pennsylvania, Ohio, New York, Maryland and West Virginia primarily chose food- and housing-related charities, dividing the grant among six different organizations.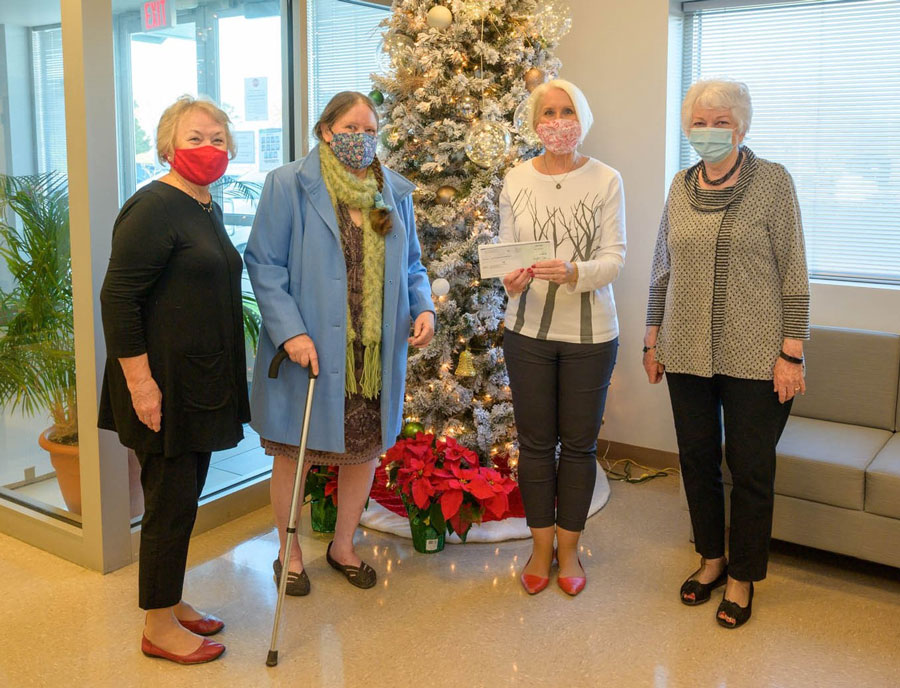 Karen Crowley (left), president of unit 1001 and Barbar Duer, president of Unit 146, present a check to Donna Tight, director of development, Virginia Peninsula Foodbank, along with Kay Hughes, secretary District 6.
Margot Hennings, District 6 director, which covers most of Maryland, Virginia, DC and part of North Carolina, was especially heartened by the direct benefit the donations provided. The funds were divided among seven food banks serving the district. David Rodney and Kay Hughes, D6's president and secretary, noted that several units have been making regular donations to area food banks long before the pandemic, but that this was the largest coordinated effort to date.
In addition, Unit 218 (Northern Virginia) raised another $3,110 through the sale of their self-published "Covid Cookbook," a project started during online club games. "Many of us 'chatted' about our mutual love of food," recalled Hennings. "As food poverty became even more of an issue during the pandemic, producing a cookbook tgo sell among friends and family seemed a next natural stetp."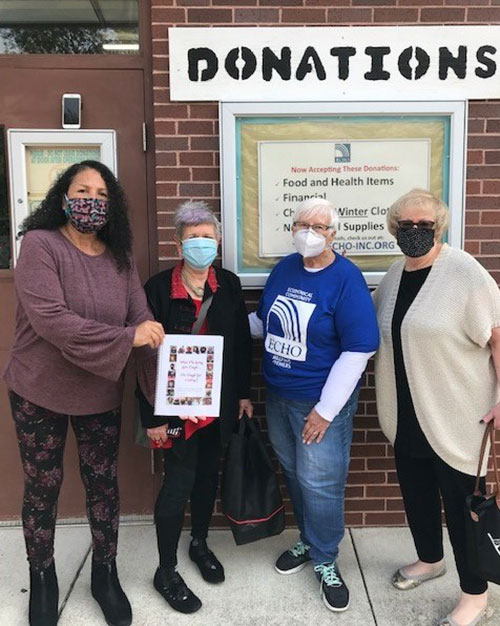 From left: Anita king and Francesa Mazarelle with the cookbook, an ECHO volunterr, and Carolyn Baird.
As the cookbook project manager, Francesca mazarella took initiative and with the help of research conductge by Carolyn Baird, recommended ECHO (Ecumenical Community Helping Others) to be the recipient of the funds the sale of the cookbook generated. Because of the relationships forged between the cookbook authors and the ECHO staff, the unit then recommended ECHO as the recipient of the portion of the Charity Foundation money that D6 designated to Northern Virginia.
ECHO is celebrating over 50 years of service to the Springfield/Burke area, providing emergency food, clothing, household items, counseling, financial assistance and school backpacks.
Robert Vitter, president of ECHO, commented that they are experiencing a surge in requests for assistance from new clients as well as from former clients who have not needed assistance in years.
District 9, which serves Florida, donated the entire amount to another very popular cause among ACBL members: the Alzheimer's Association.
Chicago and Wisconsin are home to District 13. "When I learned that we were among the districts receiving a grant, I felt really lucky," said Suzi Subeck, district director. "Charities everywhere were suffering because the pandemic made it impossible for them to run their regular fundraisers. In addition, the loss of employment in so many non-essential industries made it doubly difficult for organizations to offer the levels of community support they wanted so desperately to provide."
One of the beneficiaries of District 13's grant was the Lussier Community Education Center in Madison WI. Suggested by Subeck's daughter, Lisa, who is a state representative living in Madison - and a bridge player - Lussier has been operating for 40 years and offers a variety of enrichment programs, including a biweekly food pantry and a weekly "Food from Friends" program that offers fresh produce and bread for families and individuals facing hunger and food insecurity.
The generous donation was a surprise to A.B. Orlik, development director at the center. In his letter of appreciation, he noted that his wife is an avid bridge player and ACBL member - a complete coincidence.
The District 23 board, serving Los Angeles County; chose to prioritize charities oriented to the pandemic.
The Charity Foundation has made substantial contributions to a wide range of charitable organizations. Any member may submit a request for grant funding on behalf of an organization. The Foundation extends grants to animal, arts, cultural, humanity, education, environmental, health and human services organizations.
Foundation President Nancy Strohmer notes that the organization has responded to emerging and changing needs by making substantial contributions in the wake of hurricanes Irma, Harvey and Maria in 2017, the California wildfires in both 2017 and 2019, and the earthquake in Mexico in 2017.
"We also donate to charities who formally apply for grants from the Foundation, such as autism centers, food pantries, senior health care, ALS, equine?assisted therapy and laptop computers for schools in Uganda and Tanzania," said Strohmer.
Money to fund the donations made by the ACBL Charity Foundation is raised primarily from the charity games held in clubs and units. In addition, there are two ACBL-wide charity games held annually in clubs. These games were not held in 2020 due to the pandemic. The ACBL Charity Foundation was forced to suspend all grants until further notice.
Game On
This year, the charity games are back on track. Not only do players earn upgraded masterpoints, but part of each Virtual Club entry fee will be given to the ACBL Charity Foundation during the week of April 12-18. All sanctioned club sessions are eligible 90% of proceeds from these
games support grants of the Foundation.
These fundraising games will be held in the virtual clubs on Bridge Base Online. No registration is required. Simply play in your usual virtual club game.
"I am gratified that ACBL affords us the chance to give back to our local communities," said Subeck. "District 13 divides the grant as I run sure most districts do, between worthwhile organizations in my district. Helping as many as we do is good for bridge, good for our players and affirms our commitment to goodwill. Thank you to the Charity Foundation for their great work."
More information on the ACBL Charity Foundation here.
(Originally published in The Bulletin, April 2021)